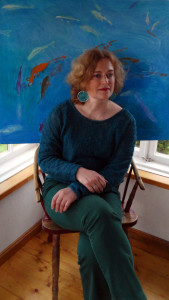 I am Estonian artist: graphic artist and painter, living on the countryside in an old farmhouse near a little lake in South-Estonia. I moved to countryside on romantic aspirations, as I value beautiful scenery, nature and open space around myself. Country life with its serene and silent atmosphere is a perfect setting for creativity. I live in sparsely populated area, from the windows I can see a lake, a forest and numerous birds and animals. The lake is the first thing I see in the morning. Every day I enjoy water reflections from the window.
In winter time, when nature is covered with snow I have more time for creative work – for painting and drawing.
The colder the weather outside the warmer and brighter the colours of my works become. Somewhere, there is always summer, hot and full of sunlight, even if it is cold and dark in Estonia and lakes are covered with thick ice. Paintings with tropically bright colours bring warmth to the heart and soul in northern frost. I paint what is close to heart.
Artist should enjoy the process of creation and the piece in progress should also touch the heart of its creator, by doing so, others will experience the result with greater emotion. Artist should strive for perfection, seek eternity. While creating art, one should not forget that life is more important than art and being a human is more important than being an artist.